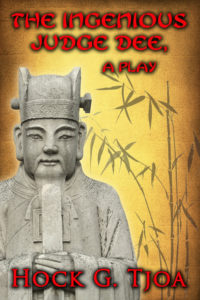 A double homicide, a "reluctant" corpse, a bride poisoned on her wedding night–all taking place in a small county, one of fifteen hundred in Tang dynasty China, and all demanding investigation and judicial response within a month! Judge Dee deals with these cases with his usual investigators and with his customary aplomb, even though he is himself under investigation by an Imperial Censor. He is unorthodox in his choice of investigators (former bandits and a female ex-cat burglar) and one of his suspects is a voluptuous woman who alleges harassment on the part of the authorities. He may also have stepped on some toes of the local gentry. What is an upright civil servant to do? In July 2015 I was able to produce a dramatic reading of this play. Based on what I learned hearing the play read, I have made a few changes to the text.
Amazon      iBooks      Barnes and Noble      Smashwords
Excerpt from The Ingenious Judge Dee
More about Hock's theatrical production and links to additional Judge Dee Mystery books and movies.