I am active in a local theater group, Community Asian Theatre of the Sierra.
Below are some of our productions, most recently The White Snake (2017)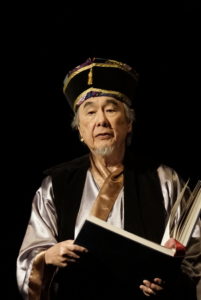 As a Narrator.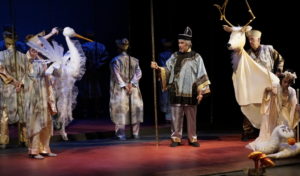 As Canopus in a scene
Video clips of Xu Xian's dilemma and the Wedding Scene.
The cast of Chinglish (2016)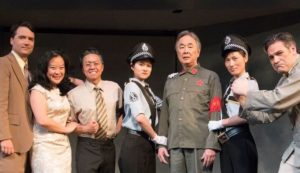 The King and I (2011)
I played the Kralahome who is something of a "heavy."  The makeup was easy this time (it has not always been so).
It was a wonderful experience especially because of the cast of children aged six to sixteen.  Life is so full of promise.
More pictures at the following link to my Picasa — Album of The King and I
The Hotel on the Corner of Bitter and Sweet (2015) – picture of the cast and crew
The Ingenious Judge Dee (2015)
I organized a dramatic reading of The Ingenious Judge Dee. This turned out better than I could have hoped for due to the strong cast that I was fortunate to recruit. Here is a picture of most of us.
Read more about Hock's Ingenious Judge Dee production.
Also see, About the Author
_____
Some Additional (unrelated) Judge Dee productions.
Movies
Books
Judge Dee Mysteries by Robert van Gulik